The Hostess and Service Staff are crucial for the Value of Popularity of your Company
Qualified Host and Hostess Staff at the Trade Fair are a true treasure being able to internalize the major Philosophy of your Company in a very short time.
Specifically at the Trade Fair, they are the first to get into contact with prospect Clients! It is not only a smile deciding on the popularity of your Stand – this would be too easy! The first sentence as well as an active, qualified and adequate Invitation to your Visitors for your Company's Stand is of major importance for filling your order books. This also applies to the Service. Friendliness and professional Service Mentality are the basis for winning hearts for your Company.
We take over choosing and briefing reliable Staff for the respective Event. This way you are able to lean back and trust us with organizing everything to run smoothly behind the scenes.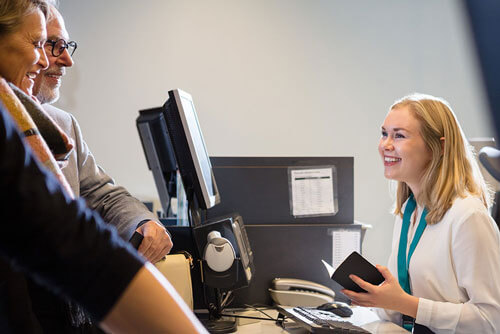 No More Stress
Crowds at the Stand of the Trade Fair or first Beverage Service at the beginning of an Event. Stress Peaks will always come up during Events to be managed by your Hostess and Service Team with Friendliness and Patience. Our HR Team is looking for professional experience and good chemistry between your Company and the individual Applicants when casting for a Trade Fair Event.

Staff Leasing
You will lease our Staff on the basis of the statutory Staff Leasing Regulation guaranteeing that all Service personnel working for your Company at a Trade Fair or Event are legally registered and insured correctly. Of course, we can provide you with know-how for international regulations with regard to the respective requirements and framework conditions.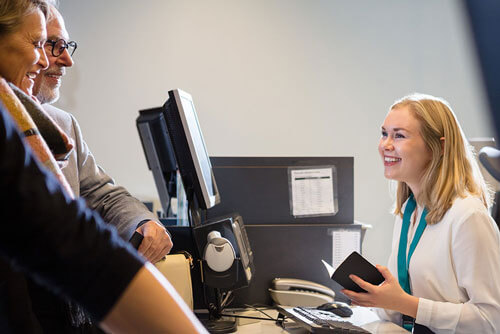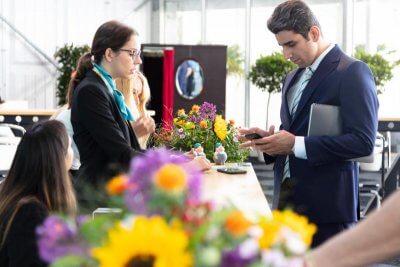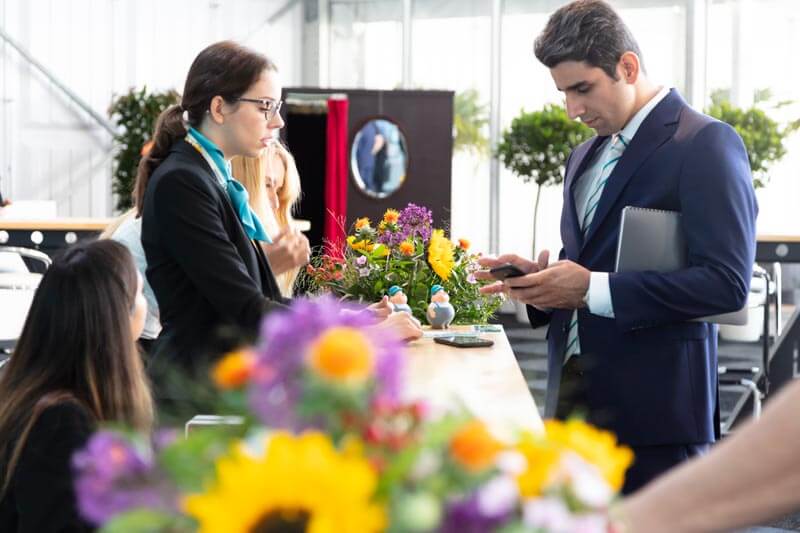 Hostess Staff
Whether you require the classic support at the Trade Fair, Meeting, Conference or Evening Event: Enjoy the qualified appearance of our enchanting Hostesses. Providing a high degree of Service orientation with a twinkle in the eye at the right place, these are the Ladies and Gentlemen helping you servicing your Guests.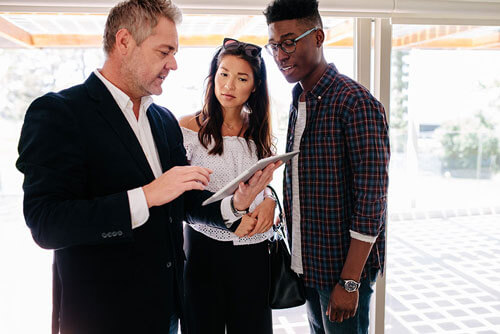 Promoter
Take advantage of our extraordinary Sales Team winning the game by means of their strong ability to communicate. For your next Promotion or Gaming Activity we may provide you with our convincing and previously trained Staff Team. Even long work days will not prevent our Promoters from smiling.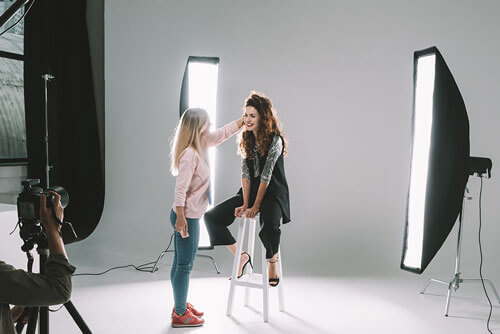 Models
Model Casting is also a field of business where our Staff Team is able to support you. Planning a Presentation of Jewelry, a Photo Shooting or an extravagant Trade Fair Appearance? We are able to take over the Casting for you in order to hire the perfect Models for you! Take advantage of the elegant Appearance of our Ladies and Gentlemen for putting your Product or Company into the limelight.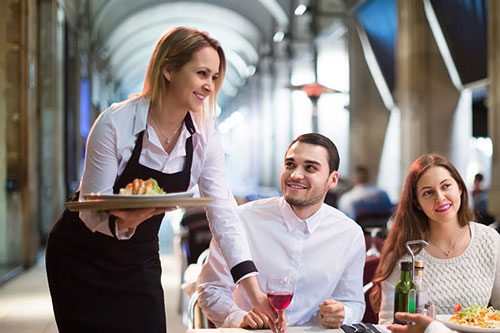 Service Team Gastro
Specifically in the field of Gastronomy we cooperate with different HR-Service Providers offering professionally trained Staff for any requirement. No matter whether Chef or Waitress in Munich or Madrid, our Staff Team offers detailed counsel and is able to organize a well-trained Staff Team particularly for your Event.
On behalf of the Kulturkreis, I would like to thank you once again for your support of the German Cultural Promotion Prize 2019! Thanks to you, the online registration in advance and also the accreditation on site had worked smoothly. I also found the cooperation with you very pleasant and uncomplicated. The Kulturkreis would be very pleased if we could continue our cooperation in the future. Many thanks once again to the whole team of TEST!
Kulturkreis der deutschen Wirtschaft im BDI e.V.
"(…) The cooperation worked smoothly and to our great satisfaction. In spite of short-term changes on our part, our ideas and wishes could always be fulfilled. This allowed us to concentrate on other things, which made our planning much less stressful."
JP Group A/S
"(…) This year again I would like to express my great praise to all colleagues involved, who supported me again energetically, (extremely) friendly, competently and patiently with the entire organization including all change and special wishes, in particular Mrs. Böhme, Mrs. von Rueden and Mr. Mattern. It was really a pleasure to work with the whole team".
Traktionssysteme Austria GmbH
" (…) Thank you so much for helping me and us so competently and so quickly!"
Sigarth GmbH
"(…) I would like to thank you and your team very much for the very pleasant and friendly and perfect cooperation. You made my life a lot easier. I wish you all the best. Stay healthy".
e+a Elektromaschinen und Antriebe AG
" (…) My team had a great experience with your service, I heard from them a lot of compliments about the bus and the driver and that everything ran smoothly.
I really appreciate your and your team help and would love to keep working with you in the future."
Drive TLV
"From my side I would like to thank you and all colleagues involved for your great commitment, your patience (because not all information came in a timely manner), your flexibility (e.g. postponement of dates from July to September) and generally for the very friendly and great communication with you! As I had noticed so far, the tour was blessed with best motorcycle weather. I will be happy to give you feedback as soon as I have heard from the colleagues, but organisationally it was very pleasant for me to work with you".
GRUNDFOS GmbH
"I would like to take this opportunity to thank you for the great implementation of our event! The cooperation with you was characterized by productive suggestions, very good accessibility and professional support from start to finish!
PATLITE Europe GmbH
"I would like to thank you very much for the always very pleasant cooperation in the run-up to the award ceremony. The online registration enabled the guests an uncomplicated accreditation and made our preparations much easier! Many thanks for the always quick and solution-oriented reactions to questions or adaptation requests!"
Kulturkreis der deutschen Wirtschaft
"(…) Of course, it was a big pleasure to work with you !!! You will be on board with us also in the future as our success is also linked to you huge professionalism, availability and kindness! You are the number 1! "
Dana Italia Srl
"Thank you very much for your support at SPS IPC Drives 2019. Your Meeting Manager was very supportive, which is why you would use him again – as discussed – at the Hannover Messe. Thank you very much (!) for your great commitment regarding the room price – and also in general for the great and professional support during the whole booking process."
U.I. Lapp GmbH
"We have been working for several editions of fairs together with Test Berlin. For us it important to have local support that responds in a timely manner and is always very efficient in handling our new-coming and changing requests. They represent a professional partner, with a team of polite people that understand finding solutions to business needs."
COROB S.p.A
"I very much enjoy working with TEST Berlin as this is an agency that truly puts their customers first! The staff is highly professional and very friendly and will do their utmost to meet our accommodation needs and make our stay a pleasant one."
Croda Nederland BV
"I would also like to thank you and the team of TEST Berlin! It really is always a pleasure to work together with you. I always feel I am in the best of hands and I receive absolutely competent and friendly advice!
Bondioli & Pavesi